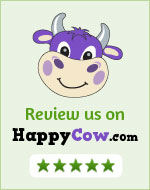 Contact Us
Address
8 Midtown Dr.
Oshawa, ON
L1J 3Z7
(905) 723-0449
fgfvegan@gmail.com
Hours
Sunday: CLOSED
Monday: 12:00pm - 7:00pm
Tuesday: 12:00pm - 7:00pm
Wednesday: 12:00pm - 7:00pm
Thursday: 12:00pm - 7:00pm
Friday: 12:00pm - 7:00pm
Saturday: 12:00pm - 7:00pm
Mission
Our mission at Fackin Good Food is to create alternative meal options that reproduce the favourite foods that many of us miss when switching to a vegan diet and have grown to love. We promote a healthier lifestyle, compassion to animals and environmental sustainability.
Meet the Staff

Nara Schuler Chef, Author, Activist

Nara Schuler is originally from Brazil but lives in Canada since 1992. Nara holds an honours degree in Business Administration, with specialization in the fields of Education and Financial Planning. For more than 10 years Nara worked as a high school teacher in Ontario and subsequently switch to Financial Planning. The increase stress of a very busy lifestyle and inappropriate diet choices contributed for her to developed Diabetes Type 2. That was a moment of huge impact for Nara and it has completely changed her interests in life.

Nara has always loved cooking and in adopting a vegan diet Nara has had to reinvent all her recipes which has prompted her in getting professional certifications in cooking and nutrition.

Over the last years I have invested in countless books about plant-based diets, examined many nutrition studies and attended seminars on nutrition and medicine. I have also watched a large number of lectures about health eating. In 2015 I have received my Plant Base Nutrition Certificate from T. Colin Campbell Center for Nutrition Studies and e-Cornell, and a Culinary Skills Certificate, from Durham College. In 2016 I took over the leadership of Durham Veg – under the umbrella of the Toronto Vegetarian Association in the Durham Region and in 2017 I created and organized with the help of dedicated volunteers the Durham Veg Fest 2017. I published my book Secrets of My Vegan Kitchen in 2016 where I share the changes I made to my diet that made it possible to reverse my diabetes in only 3 months without the use of medications. This change made my life more meaningful and healthful.

Continuing with my goal to promote diet change in 2017 I acquired my Coach Certification and registered in a Holistic Nutrition program, which I am currently attending.

In 2018 I met Chef Alan and this partnership has brought me the opportunity to open a vegan restaurant. Together we tested, experimented and created many recipes including fake meats and cheeses with the goal in mind of giving alternative meals to vegans, vegetarians and veggie curious. At Fackin Good Food our deli take-out restaurant, we offer a vegan and healthier version of the foods we grew up loving to eat.